Toyota Auto Care Classic Vehicle Maintenance Plan to keep your vehicle running smoothly with coverage on basic maintenance at Aubrey Alexander Toyota. It's coverage that helps provide you the peace of mind you deserve. Helping you protect your vehicle with maintenance performed by Toyota-trained technicians. It's a win-win!
Cover Routine Maintenance
Coverage includes oil & oil-filter changes* and multi-point inspections based on the recommendations in your vehicle's scheduled maintenance guide. 
24-Hour Roadside Assistance
Coverage includes lockout protection, flat tire changes, jump starts, emergency fuel delivery and towing. 
Invest today to help prepare for tomorrow. Prepaid maintenance on every used vehicle at Aubrey Alexander Toyota in Selinsgrove PA. We want to help you stay current on routine upkeep to maintain your vehicle's safety and performance.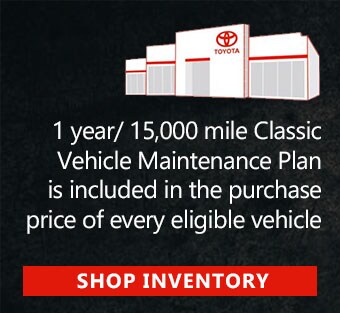 Vehicle maintenance plan included in vehicle purchase price is cancellable but not refundable. Additional options, cancellable (see agreement terms) long-term coverage is available for a fee and is not required to obtain credit. Fee for long-term coverage will be reduced by the value of the plan included in vehicle purchase price. See agreement for complete terms and conditions including non-covered expenses and exclusion. *
The use of synthetic grade engine oil may be indicated for your vehicle. Synthetic oil may require changing less often. Consult your vehicle's Scheduled Maintenance Guide for factory-recommended oil grade and service intervals.
 Toyota Financial Services is a service mark used by Toyota Motor Insurance Services Inc and it's subsidiaries.